One of the editor's Buddhist teachers is the Venerable Master Lama Zopa Rinpoche, founder of the Foundation for the Preservation of the Mahayana. The editor ordained as a Buddhist Monk in the Sangha. The editor is a former monk and is now a Buddhist Upasaka (lay person).
Lama Zopa Rinpoche is a Tibetan Buddhist scholar and meditator who for over 30 years has overseen the spiritual activities of the extensive worldwide network of centers, projects and services that form the Foundation for the Preservation of the Mahayana Tradition (FPMT) which he founded with Lama Thubten Yeshe.
Rinpoche has set in motion a host of Vast Visions for the FPMT organization that will span generations to accomplish. These include the proliferation of many charitable projects and beneficial activities. Among many projects dear to Rinpoche's heart are the two Maitreya Projects: under Rinpoche's guidance, FPMT plans to build two large statues of the future Buddha, Maitreya, in Bodhgaya and Kushinagar in India; The Sera Je Food Fund, which offered three vegetarian meals a day to all 2,500 monks studying at Sera Je Monastery in south India for twenty-six years, culminating into a large endowment fund, which now covers all the cost of food for all the monks for as long as the endowment fund remains; Animal Liberation events around the world, at which creatures, big and small, are freed from immediate harm or blessed every year– with hundreds of millions of animals liberated to date (by Lama Zopa Rinpoche or those inspired by him) and counting! Rinpoche is also utterly dedicated to fulfilling the wishes of His Holiness the Dalai Lama wherever and whenever possible and holds this to be an utmost priority for FPMT.
More details of Rinpoche's ongoing philanthropy can be followed through the Lama Zopa Rinpoche Bodhichitta Fund.

Rinpoche's Life and Vision
Read a short biography, some of Lama Zopa Rinpoche's life accomplishments and Vast Visions for the FPMT organization.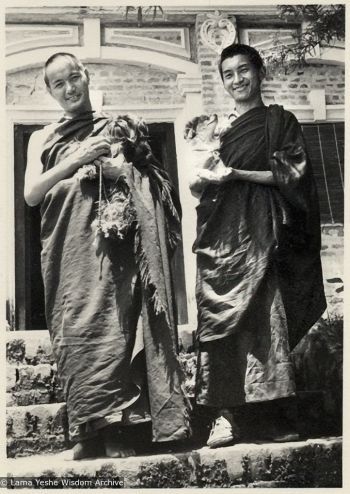 Born in the Mount Everest region of Thami in 1946, Rinpoche was recognized soon afterwards by His Holiness Trulshik Rinpoche and five other lamas as the reincarnation of the great yogi Kunsang Yeshe. Rinpoche was taken under the care of FPMT's founder Lama Thubten Yeshe, soon after leaving Tibet, in Buxa Duar, India, in the early 1960's. Rinpoche was with Lama Yeshe until 1984 when Lama Yeshe passed away and Lama Zopa Rinpoche took over as spiritual director of FPMT.
At the age of ten, Rinpoche went to Tibet and studied and meditated at Domo Geshe Rinpoche's monastery near Pagri, until the Chinese occupation of Tibet in 1959 forced him to forsake Tibet for the safety of Bhutan.
Rinpoche then went to the Tibetan refugee camp at Buxa Duar, West Bengal, India, where he met Lama Yeshe, who became his closest teacher. The Lamas met their first Western student, Zina Rachevsky, in 1967 then traveled with her to Nepal in 1968 where they began teaching more Westerners.
Over the next few years they built Kopan and Lawudo Monasteries. In 1971 Lama Zopa Rinpoche gave the first of his famous annual lam-rim retreat courses, which continue at Kopan to this day.
FPMT was established at the end of 1975. Lama Yeshe served as the organization's spiritual director until he passed away in 1984, at which time Rinpoche took over. Since then, under his peerless guidance, the FPMT has continued to flourish.
Further Information and Biographies